Among Us
📣 March 31 - The Airship Releases!
---
Hi Crewmates!
We know people have been excited and waiting for the map – thank you to those who have been SO supportive and understanding. It's really helped us out mentally these past few months.
☁️ The Airship, our new & biggest map - drops MARCH 31st, 2021! ☁️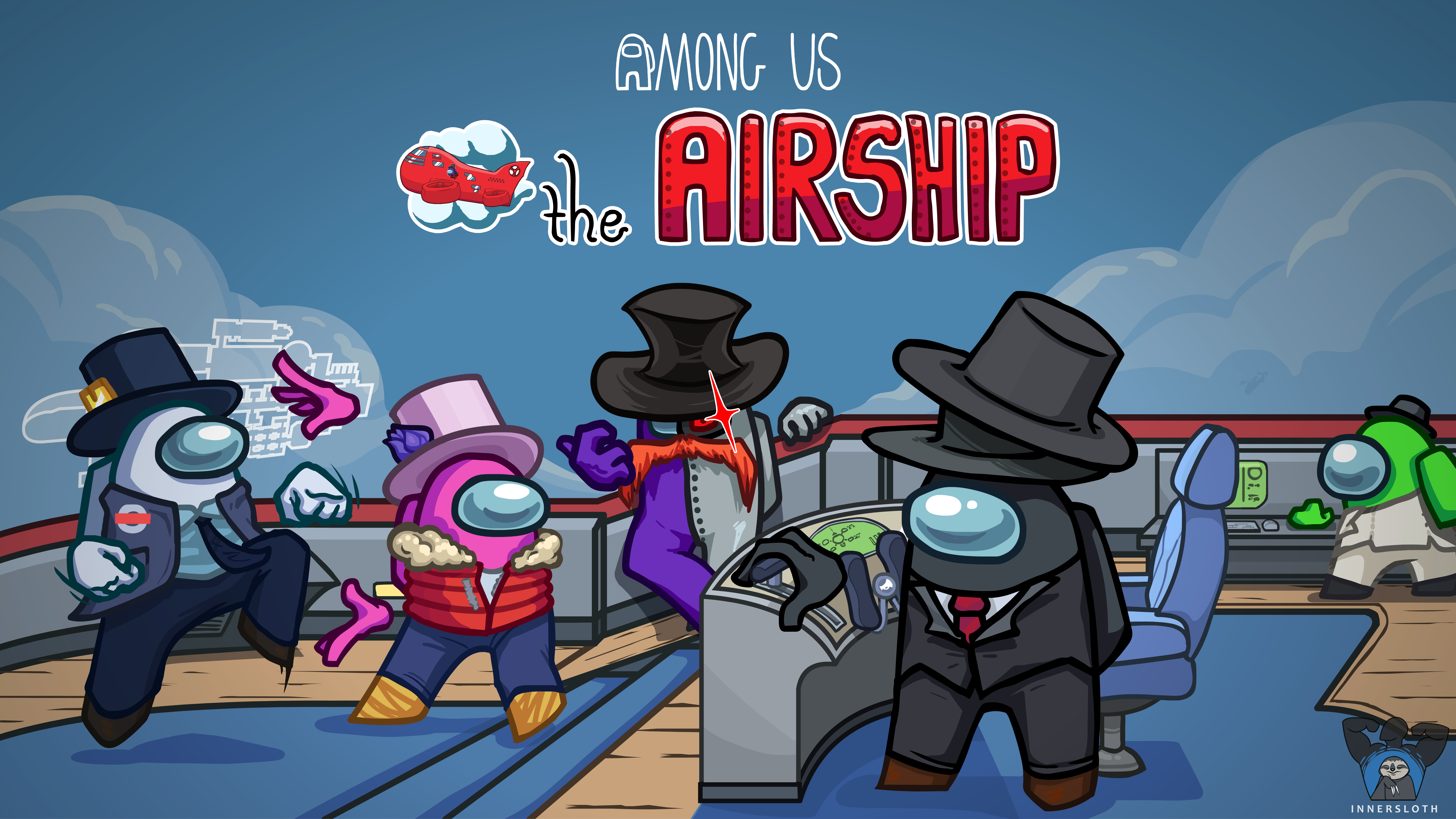 This free update will have all new tasks, the ability to pick the room you start in, ladders, a basic account system for moderation and... more?! (Some new free hats as thanks for being so patient with us perhaps?! 👀)

In an effort to continue being as transparent as possible with our process, we wanted to share exactly what we've been doing and why things have taken longer than we wanted.

Let's get started!
General
I'm going to try and do my best to explain everything in as few words as possible, but please remember there's a lot of nuance to any and all situations!
Why did we not release a map ASAP?
I explained this a bit in our last dev log, but Among Us' popularity was something no one expected, and quite late into 2020 too. (Thank you for that!!) We had already considered the game done and had moved onto something else. And while it may seem odd things took a few months, it's quite normal in game development, especially for a team of our size. When you work in an official capacity and need to handle various business needs, there are more legal considerations that need to be put into it versus if it were just a side project or mod!
Additionally, creating a map and updates isn't as simple as creating one aspect of the game and throwing it onto the PC. Because our game is cross-platform, it means EVERYTHING needs to work on as many devices as possible. (Every kind of smartphone and its various versions, console, etc.) You may have noticed most modifications to the game focus on just PC, as that makes development much easier.
When a game becomes unexpectedly popular it's great, but it brings a whole slew of other problems we were extremely new to, which I'll outline below. That being said, we're extremely grateful for all of the success we've found. The explanation of problems is just that – an explanation! Not a complaint. Thank you for letting us be a part of your lives. 😊
Multiplayer online games have a lot that goes into them – especially one with as many players as Among Us. Time gets taken away from other tasks because we'll need to put out a fire somewhere else e.g. when servers go down, we get reports of hackers, etc. Because it means it often affects millions of players, these are high priority items we need to immediately switch to fixing. The more people playing, the more things can go wrong sometimes!
Why not just hire a ton of people? Well, for one we want to keep our close studio dynamics – the bigger the group, the more problems you run into with management, interpersonal clashes, and just overall coziness! If you've worked on a group project, you know having more people isn't always necessarily a good thing. And it also matters WHO those people are.
Plus, when you're a smaller team, hiring is a very distracting process. For example – if Forest, our one programmer at the time, has to be taken away from work on the map to sort through hundreds of resumes, interview a ton of programmers, and set up their employee onboarding, it takes up weeks and weeks of work AND 100% of our programming power.
Finally, we don't want to treat our team members poorly. Properly setting up insurance, vacation, onboarding, etc. Taking care of people is the priority, always! Right now we're a team of 5 and we hope to continue staying pretty small and cozy, but there are some new hires on the way too.
That being said, we did bring on outside groups to help. It helped the servers stabilize when we moved to Multiplay. PlayEveryWare made getting Switch out in three months possible. Dual Wield handles all the merch. Robot Teddy for business development. Legal and accounting and HR are all new partnerships that reduced the burden of running Innersloth. But these all have a different feel than hires who are going to shape the way Among Us and Innersloth work in the years to come.
Daily business. So. Many. Meetings.
The thing about being a studio and a ~corporate entity~ is that we actually aren't able to slap together things and release them without thinking of several other affecting factors now. (Even small updates!) It was easier when we were just a group of 3 and there weren't really many demands of us, but now things have changed and we need to follow a more rigid process since sooo many other people are involved. Include the fact these things often require meetings that take hours, multiple times during a week, and that for a while our one programmer was also doing all the non-game/business stuff meant a lot.
You also may have noticed how much fake Among Us merch has been out there. We had to get legal help for that, but the way IP laws work is that the only ones with the power to talk to lawyers and have things taken down are Innersloth officially. That definitely groups into the sheer amount of meetings we have, and the considerations we need to make. We want to encourage fan art and totally welcome it! But we don't want corporations taking advantage or ripping off anyone.
Honestly we're also a bit tired! Since Among Us blew up so late in 2020, it meant we weren't able to take a proper winter holiday, and sometimes we can end up working quite late handling things. This isn't something to be proud of at all, especially since the games industry often has a problem with crunch that we want to avoid. But we're trying to be transparent with you, and we want to be better about this.
The Map
All things considered, programming was one of the easier parts. (You'll see why when you read further along.) We've already made three maps, so if all we had to do was make a map for PC and mobile and release it, we might have finished it last year. But it wasn't going to be as good as we wanted and it would have messed with the Switch launch, so we hard stopped to improve Switch launch.
Now that we're on (and coming to more) consoles, there is an actual approval process we have to go through with them. We can't just put out an update in two days anymore!
The most important thing for us when Among Us blew up was to ensure safety, moderation, and reporting. We consider it our responsibility to create a positive, healthy community. Thank you to our community for being excellent to each other in games! That being said, we were very much aware that there was still a moderation problem we needed to tackle, and that became our priority.
A proper moderation system is one that is extremely difficult and time consuming. It is not as easy as just having a "report" button and having an algorithm ban someone after a certain number of reports. There is a lot to consider:
Servers that accounts are hosted on

: Accounts need to be hosted on servers. What servers, and where?

How do you ensure they are

safe

so your accounts don't get hacked?

Privacy

: Do your terms of service for accounts follow privacy guidelines? Are they respectful of personal information?

Legal

:

Are accounts complying with laws from all around the globe?

Moderation

: What should be able to be reported? How much is handled by algorithms? When it comes to moderation there is often A LOT of nuance.

Wh

en should things be sent to a human

?

How can you prevent false reports?

Programming: Well. Someone

has to

make this system happen!
Because of these considerations (and more!), accounts ended up taking longer than expected. It MIGHT'VE been possible to launch The Airship before accounts, but we didn't want to do that. It would be wrong to launch the new map, get all hyped, and pretend like there were no issues with toxicity. So these two things needed to launch together.

While the map was finished, it had some completely unacceptable bugs. We wanted to make sure we fixed the biggest ones (that we could find, at least). And keep in mind each platform has its own unique bugs!
Whew. Did you actually read that all? Proud of you! I hope that helped understand our situation a little better, and also show you WHY we're so so grateful to everyone for being extremely patient with us as we learned all of this. We never want to hide anything from you when you've shown us so much support. So when this map finally launches... we really hope you love it, and we'll continue doing our best for you!
Cheers,
Victoria & the Innersloth team

---
Social Links
Twitter: https://twitter.com/AmongUsGame
TikTok: https://tiktok.com/@amongus
Discord: http://discord.gg/innersloth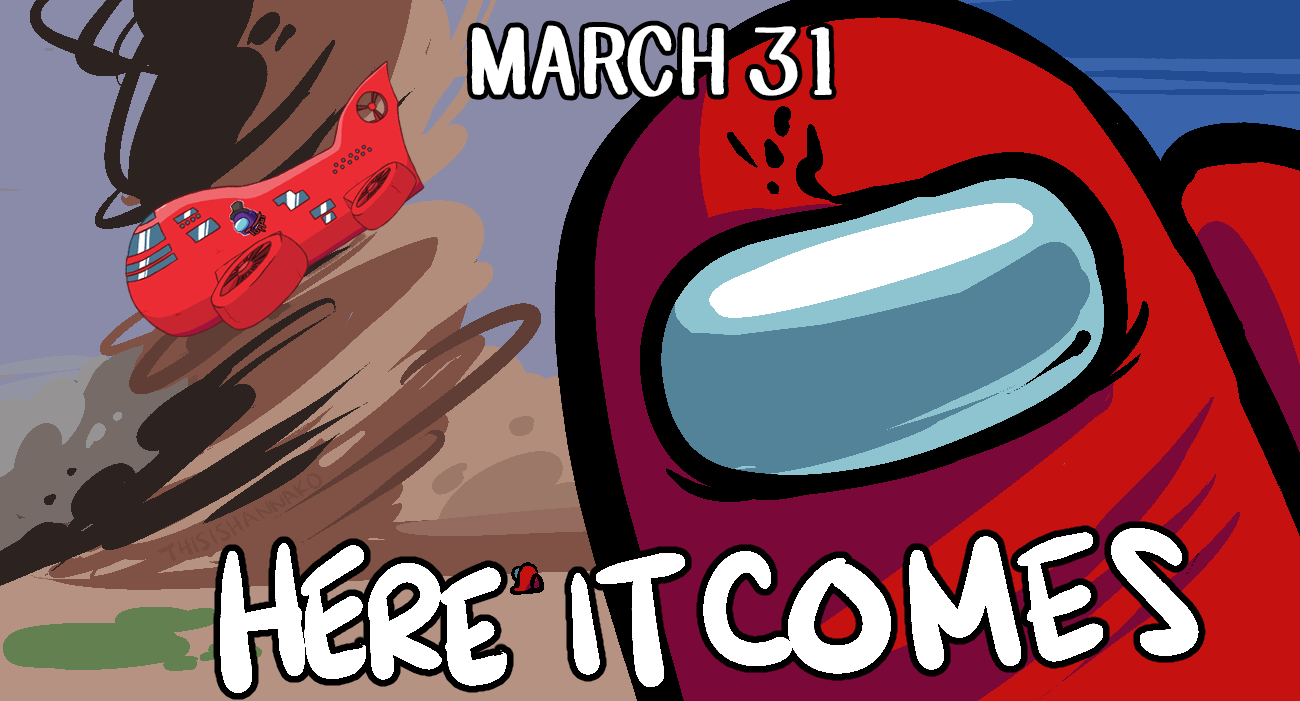 Files
Among Us (Windows)
376 MB
Among Us (Android)
487 MB