Among Us
Twitch & Discord mobile integrations
---
Hey Crewmates!
The latest update (Version 2021.5.10) is focused on mobile integrations and bug fixes, so feel free to skip if you're on a different platform. Or keep reading, I dunno, I don't run your life.
Twitch Mobile Streaming Integration
This update allows you to start streaming Among Us on Twitch straight from your mobile device!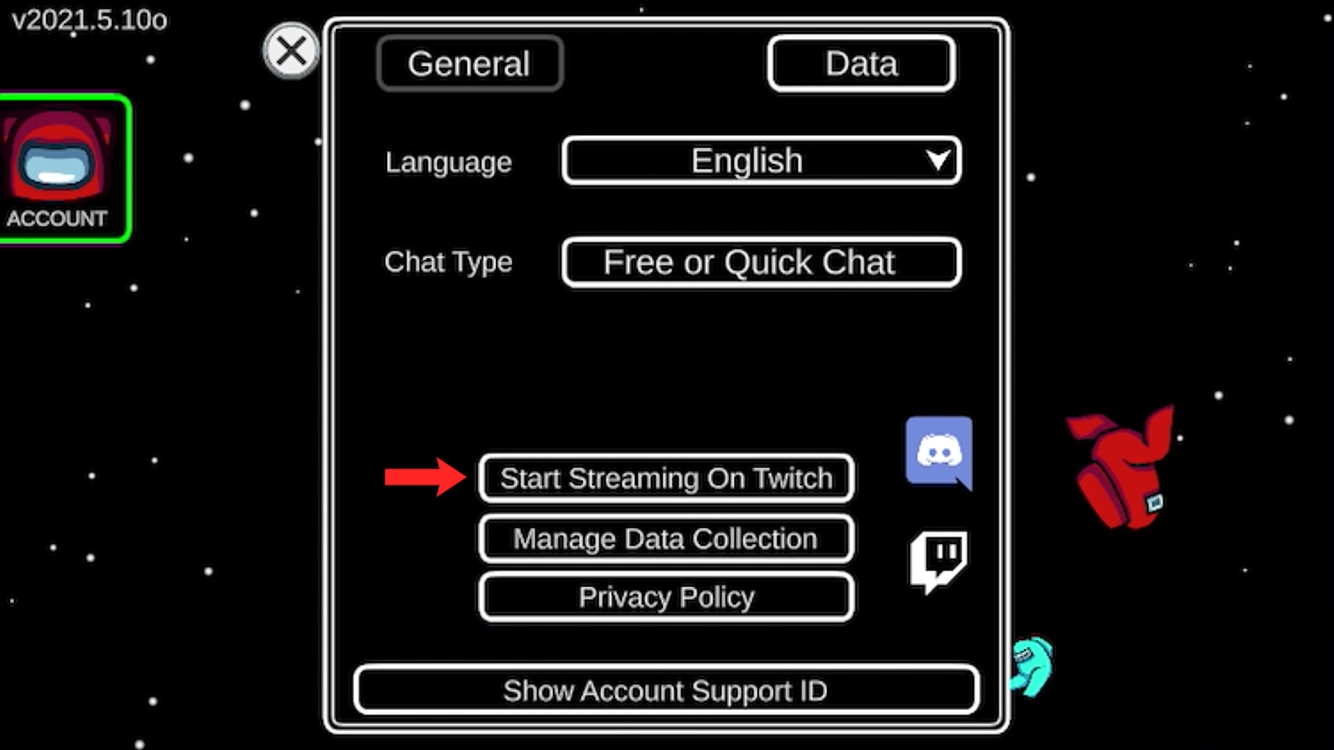 Discord Integration
You're now able to link your Discord account to the app (on mobile) and then share a room code invite by pressing the Discord button next to the private/public button in the room lobby!
Mobile devices and PC will also be able to easily join room invites from Discord. From PC, you're able to send an invite via Discord as well as join an invite.
Note: You need to be a non-minor logged into a full account to access any of buttons that allow for linking to or interacting with Twitch/Discord. And remember if you are logged into a full account, you can change the chat in Settings and/or your name in the Account tab.
Bug Fixes
Crewmate sprites appearing as pink polygons on Android devices should be fixed. If you still are having issues, please email support@innersloth(.)com and include what device you're using. MAKE SURE YOU'RE UPDATED TO VERSION 2021.5.10! (You can see what version you're on when you launch the game in the top left corner.)
Skins not appearing in the Airship bundle purchased should now be there
Region text no longer continually shows North America on opening screen
IOS users no longer need to sign in everytime the game opens
May and June are looking to be VERY busy on our end (lol wait have I ever said a month wasn't going to be busy), so make sure you keep an eye out for what's coming up next!
Cheers,
Victoria

P.S. Some of you may notice the footage in the Discord mobile integration video doesn't exactlyyyy line up. I stitched footage from mobile and PC because I wanted to show what it'd look like to join from PC. (OK fine more honestly it's because I didn't have mobile footage and I need this dev log out in time shhhhhhhhhhhhhhhhhhhhhhh.)
Social Links
Twitter: https://twitter.com/AmongUsGame
TikTok: https://tiktok.com/@amongus
Discord: http://discord.gg/innersloth