Among Us
Hey everyone,
I (@forte_bass) really like doing data analysis, so I wanted to share stuff that I show Innersloth peeps every now and then to get a feel for how Among Us is doing. This isn't quite a post-mortem, although we are planning on wrapping Among Us up soon to make way for another game, but I'm unsure if I'll create another big post like this one, so it's probably close enough.
Among Us has a prompt when it first opens asking for consent in taking gameplay data. We link to exactly what we take and make sure not to take anything identifiable like name or IP. Cool.

But now we're sitting on over 15000 games worth of data across >65000 submissions taking 1.2GB. Here's what we see:
We're still growing (Thank you!)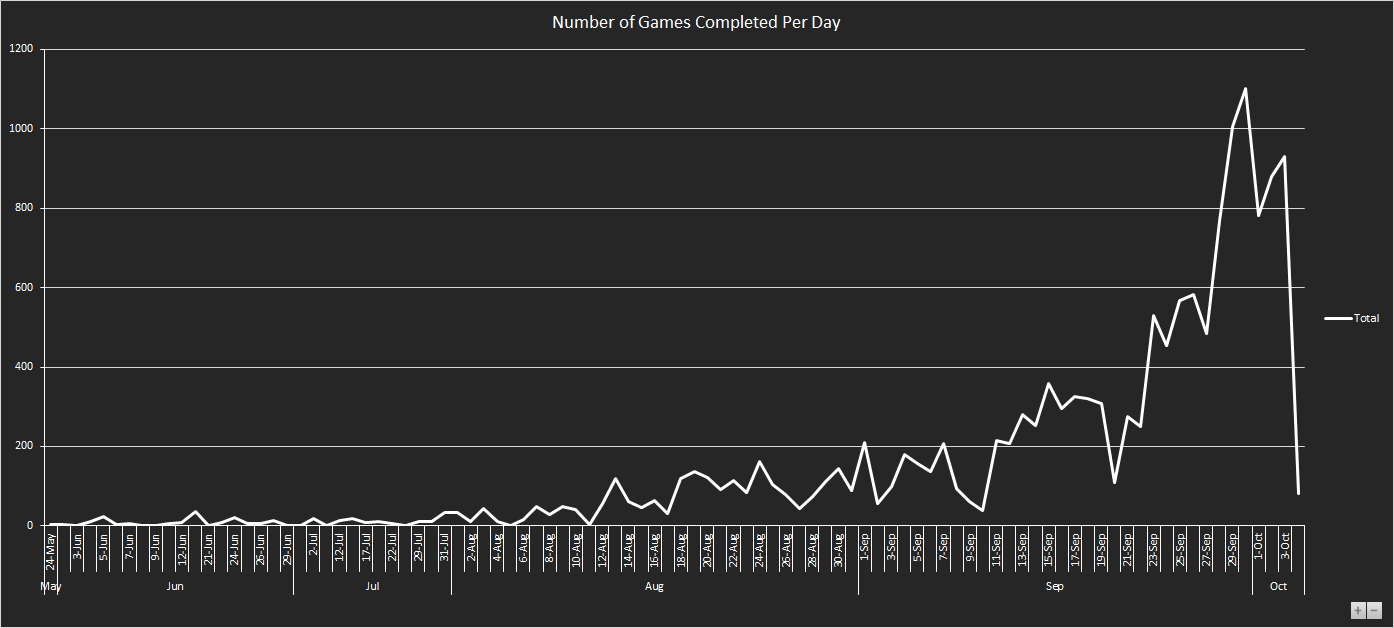 (Note: Click the pictures, most of them are too small to read in itch. :\)
From the first intermittent alpha test submissions to the most recent spike from Itch.io's retweet, we're now seeing easily hundreds of games per day. These are actually completed games with most test games removed. If you had to leave because of a softlock or disconnect, then that data wasn't even submitted. Both local and online games are represented here. Speaking of which:
People really do play local multiplayer games
While the number of games up there is impressive, look at the number of people connected to our servers.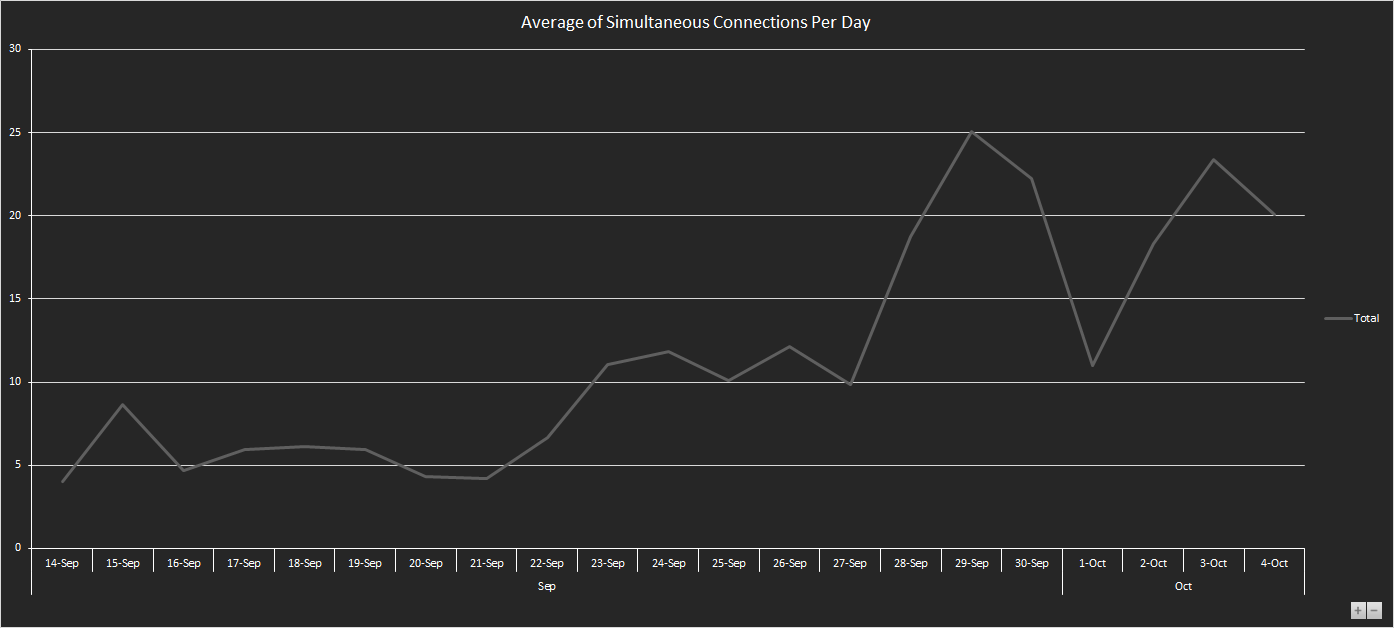 (Note: Connection data comes from server logs, which weren't very good at first, so I'm missing data between Aug 17th and Sept 14th).
It's not so many... Although if you break it down to hourly numbers (which looks messy, so I won't show you), players tend to stay connected either seconds (probably couldn't find a game. :C ) or hours (playing lots of games with players rotating in and out). So while 25 connections only represents 3-5 concurrent games, those players are completing dozens of games. :)
It's also easy to see that we released lobbies (making games easier to find) on late Sept 21st, and itch's shoutout on Sept 27th. The dip on October 1st? That's the server outage when I messed up releasing 2018.9.30. (Sorry!)
That said, the vast majority of games are played locally with friends. To be honest, that's exactly how it's meant to be. We added multiplayer in August to help players who had no other options, and we think it also helped spread the game. But we thought were done in June because we set out to make a local-multiplayer game so we're glad to see that happening.
What's Wrong with Thursdays?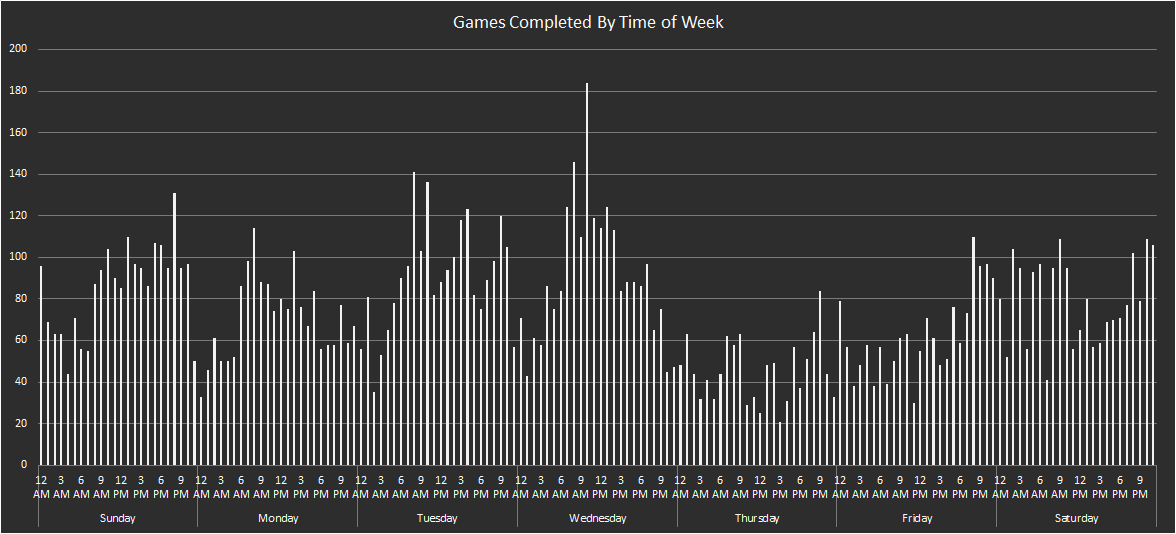 (Note, times are in UTC)
When looking at the total number of games submitted during September and (first three days of) October, Thursday comes up really short, but mid-Wednesday (Tuesday night PST) is apparently the time to play. Weird, but let's move on to some fast facts.
Our Players
Active Installs

Android = ~3500
iOS = ~1000
PC = ~600

We seem to have about 1000-1200 players open our app daily.
Philippines, Brazil, and US are our three largest countries. In that order.
Our Server

Is an Amazon AWS nano in US East. We're milking those free hours for now.
Averages about 3% capacity, but that big spike around September 28th hit 50%.
Receives about 250MB/day, sends about 500MB/day.

During the Sept 28-29, spike we got 405MB and sent 850MB.

Runs a custom .NET server app built on lightly-modified Hazel.
Our Monetization

Is limited. We only serve ads on iOS and Android
We've made about 35 bucks.
If you want to support us, we're adding hats very soon, but itch.io doesn't support DLC, so we can only sell them on mobile until we launch on Steam.
Our Game Balance
Impostors have won 8011 games out of 15057
Crewmates have won 7046 games out of 15057
People play mostly 4 or 5 player games

4 = 4753 (31.6%)
5 = 4466 (29.7%)
6 = 2181 (14.5%)
8 = 897 (6.0%)
7 = 1320 (8.8%)
9 = 577 (3.8%)
10 = 815 (5.4%)
Wrapping It Up
I hope these numbers are interesting to someone. I love looking back at how we've grown, and I'm happy to talk to anyone about what went into it.
The reason I have any of this data at all is because I think heatmaps are really cool, and all of the analytics pipelines I found either don't handle heatmapping well or hide them behind paywalls. So I'll finish out on the heatmaps for movement (people really like tracing the walls for secrets/holes) and kills (includes kills by vote :\). Thanks so much for playing!