Among Us
Hey everyone!
Sorry for the month delay, but this update is a pretty big one!
Big Changes
Translations
We have mentioned in several places that translation is something we want to do, but it's huge project. To move in the right direction, we've added better international text support to the chat rooms. You should now be able to type and read most accented characters, Cyrillic , and Korean. If you find there's a character that doesn't show well or is missing, let us know!

We are also opening up an application for translating into our most popular languages: Korean, Brazilian Portuguese, Spanish, and Russian. If you want to volunteer, please join our Discord and DM Aemu if you're interested!
Filtering
We know it can be hard to find a game in your language or with your preferred settings, so we have added some filters to help out. These again focus on our most popular languages.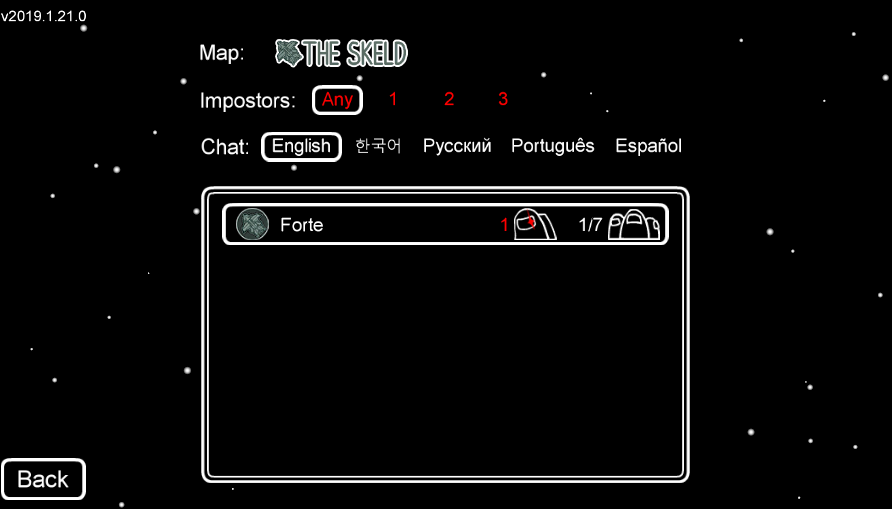 Maps
Hey wait, there's a map filter in that previous screen! Yep! This is our way of letting you know that we're starting on a second map for Among Us. We're just starting it, so there's not much to say now, but we will keep you updated as we make progress!
Smaller Changes
We've added a 5 minute ban to players who leave games or close the app in the middle of a game.
Impostors can now use the medbay scanner.

Common tasks are intended to give impostors a single place to expect all players to pass through. The shared animation unfortunately gave crewmates a strong means to ensure certain players are not the impostor. While there are aggressive impostor strategies to combat this, knowing 100% who is or is not an impostor is not a mechanic we think is in the spirit of the game.

Fixed/improved various bugs:

Sabotages would sometimes start after a meeting starts
Scan animation would sometimes play while the player can move around.
FindGame list sometimes has a ship in the background.
Rounding causes game options text to be inconsistent
Can accidentally report bodies through the map screen.
That should be pretty much it. We're pretty excited about the direction we're taking with Among Us, and excited to share what we have in store, but that'll have to wait for another time. :D
Until then, feel free to join our Discord or give us a Tweet if you have any bugs or sweet Among Us stories to share.