Among Us
Improving Meetings in Among Us 2019.5.7!
---
Hey all!
First of all, we hit 1 million downloads! Thanks so much for enjoying Among Us enough to download it a million times! It kind of snuck up on us, so this update doesn't have anything in particular to celebrate, but keep your eye out for the next one. :)
More to the point, this update has a bunch of changes, so let's take a look at the big ones.
Voting Notifications Added to Chat
We wanted to make sure that people chatting weren't forgetting to vote, so now there's another indicator of what's going on beneath the chat.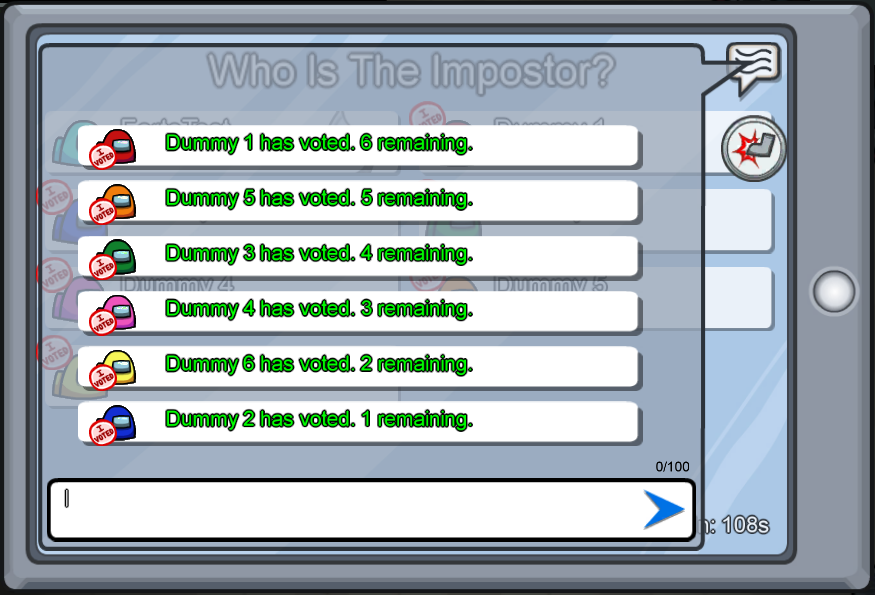 Improved Chat and Name Filter

As a game with many younger players, we want to make sure the chat is a safe place. The upgraded filter is still not 100% perfect, but it should catch far more obscenities than before. That said, we've found it can be a bit strong at times, so if you find a polite word or phrase is being censored, let us know. We also plan to add a setting in a future update to turn it off entirely if you want.
Vote-to-Kick During Games

Before a game starts, hosts still have full control of kicks and bans. Once the game starts, the kick menu will be available to all alive players. Ghosts cannot vote to kick players because they might vote for impostors. If any three players vote to kick a player, it will happen. Hopefully this will strike a balance between bad hosts having all the power and kicking players because they aren't getting their way. And good players not having enough power during the game to stop trolls. We still have our eye on this and will keep improving it.
Smaller Changes
Open/close map with Tab key (PC in Mouse+Keyboard mode only)
Fix sound not stopping in calibrator task when interrupted.
Add missing Cyrillic characters such as ё.
Show full crew when impostor disconnects.
Can no longer use oxygen room consoles from cafeteria.
Fix number of impostors setting getting stuck lower after starting a room under capacity.
Reduce chances of closing doors pushing players out of bounds.
Reduce chance of number of impostors becoming 0.
Fix some common crashes.
That should be about it. Thanks again for enjoying Among Us so much! We're really excited to keep improving it for you all. And as always, if you wanna hang out in our Discord or hit us up on Twitter, please do!
PS. We have quietly announced that we're working on new two maps. Aemu's Headquarters map is planned to release first, but PuffballsUnited has been streaming work on his planetbase map most weeks.